People of every age, profession, and interest use VoiceThread to have human conversations online. We are so inspired by the variety of wonderful work our community creates, and it's very important to us that we keep VoiceThread as affordable as possible no matter how much VoiceThread someone needs.
To help individuals ramp up their VoiceThreading, we're offering two new license options:
SOLO PRO: For individual VoiceThreaders want all the bells and whistles.
SOLO BASIC: An entry-level upgrade to create more VoiceThreads and share securely.
We're also making some changes to the free account: Record comments up to 3 minutes in length Create up to 20 VoiceThreads Upload files up to 3 GB in size Add up to 10 slides to any one VoiceThread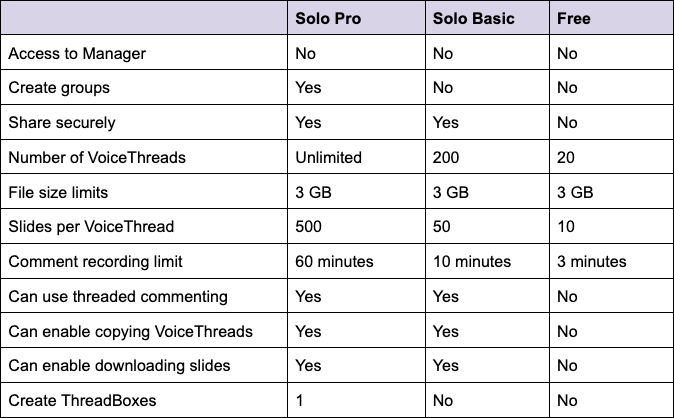 If you have a free account now and want to upgrade, you can purchase either of these new options on the upgrade page. Once you meet the limits of the free account, you'll see a window asking whether you'd like to go to the upgrade page, as well.