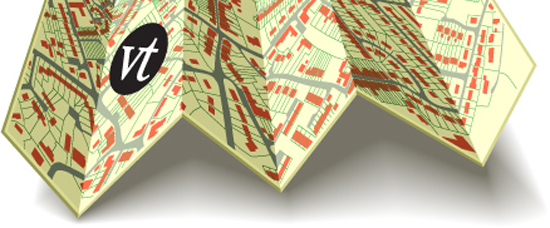 The arc of change in the teaching and learning universe may be long, but it bends towards a more accessible, equitable, inclusive, and human-centric world. We plan on shortening that arc just a little bit in 2023. But first, let's take a look at what happened last year.
2022 in Review
Google and Apple Login
Anyone who has a Google account or Apple ID can use it to access VoiceThread now. On the main VoiceThread login page, you can simply click on the "Sign in with Google" or "Sign in with Apple" button. If you already have a VoiceThread account under that email address, we'll just sign you into it.
Assignment Features
Formal assignments and other integrated activity types, available to any institution that uses VoiceThread in an integrated LMS, received a number of updates:
Updated design and functionality for building VT Home, Course View, and Individual VT links
Options to change a VoiceThread's settings while building an Individual VT link
New option to reconnect an existing assignment to a new link in your LMS
Set a prerequisite assignment before students can work on the current one
Added a close date that differs from due date
Ability to disable the Assignment Builder in the Canvas "Modules" area (available upon request)
Introduced an updated "slide gallery" view so that it is accessible for screen readers and keyboard users
Doodling Preferences
Whether you set your doodles to fade or not fade, that preference will be remembered until you opt to change it again.
Mobile Updates
We made a number of updates to the mobile app. Some of this is visible, but a substantial amount can only be "felt." We did a major refactor to make the app more stable, improve error handling and cache/memory management, reduce load times, and make modals and messaging work better. Additional items added:
Option to request account deletion on the "My Account" page
Moved closed captions to the bottom of the screen
Support for all new assignment features from the student experience
Google and Apple login added
Improvements to device rotation during recordings
Option to switch identities from all editing pages
Ability to message app users that an update is available
Accessibility Updates
Added a slide description field so content creators can make their image slides more accessible
Automated creation of descriptions and alt text from PDF and document slides
Translated the new assignments interfaces
Introduced an updated "slide gallery" view to assignments so that it is accessible for screen readers and keyboard users
Moved closed captions to the bottom of the screen
Security
Strong security is a quest that never ends, but we made great strides in that area in 2022.
Received our first SOC 2 report.
Updated our backend QA environment to ensure that only anonymized data can be used in any test scenario.
Increased group security when adding new members.
Added authenticated callbacks for third-party closed caption integrations.
Backend Work
Behind-the-scenes work isn't glamorous, but it is what makes all of our upcoming work possible!
Automated key rollover to ensure strong security of integrations
Refactored the closed caption handling
Refactored our reporting infrastructure
Performed several intensive library updates
Built manifests and API endpoints to support upcoming features in 2023
---
Coming in 2023
The New VoiceThread
We've been working for a long time on unifying the VoiceThread experience across all platforms and for all types of users. This wasn't possible back in the days when Adobe Flash was required and then HTML5, but we're finally there now. This year, we'll be releasing a completely overhauled version of VoiceThread that will be exactly the same for everyone and that was built with accessibility in mind from the ground up. Some highlights:
A single interface accessible to everyone, including screen reader users.
Redesign of the VT Home Page to match the design of integrated assignments and the mobile app.
Redesign of the media player to streamline, modernize, and enable support for new features.
A few new features:

Ability to pan while zoomed in and commenting
Bulk-reveal moderated comments
Bulk-delete comments on a slide
True transcripts provided for captioned content
There will be many more new features to come over time as a result of the new interface. When the new version is ready, we'll alert everyone via email and give you the ability to test it on your own timeline. All administrators will have a window of time to decide when they would like their institution to move over to the new version so you can line up the transition with a convenient time for your users.
Zoom Oauth
Zoom is deprecating its JWT integration, which is what we have used in the past. We will be adding support Oauth integrations instead. We'll be working with institutions to transition over before the June cutoff date.
Google Group Integration
If you use Google Classroom and already have a Google Suite integration for authentication, we will be able to create class groups in VoiceThread for each Google class and enroll students. This matches the roster integration for LTI integrations in learning management systems.
Microsoft Integration
We will be adding Microsoft integration for login and importing slides from OneDrive.
Assignments
For courses using formal assignments integrated in an LMS:
New assignment type that requires students to comment on their classmates' submissions from a previous assignment
Ability to grade students who haven't begun to work on an assignment
Option to prevent students from seeing the Student Gallery in "Create" assignments until they have already submitted their own VoiceThread.
Update the grader to better support instructor edits for captions, allow exporting, and remove the "Edit" button when it should not appear.
Ability to view and even create assignments outside of an LTI integration in an LMS
Google Integration Update
Integration with Google Suite is the way many people access VoiceThread, especially in K-12. We'll be adding two new features to our Google connection:
Roster synchronization: If you use Google Classroom, we can automate the creation of VoiceThread courses to match those rosters.
Sign in with Google: For independent users who want to sign in with Google instead of having a password specifically for VoiceThread.
Accessibility
The "New VoiceThread" will be our last step in unifying the standard and "universal" versions of VoiceThread. There will be a single, fully accessible experience for all users. This goal has been several years and iterations in the making, and we're so proud to be reaching that goal this year. Of course we will never stop making improvements and collecting feedback, but this will be a major benchmark in the 16-year journey of bringing accessible multimedia learning environments to all students.
Additional features coming:
Time chunk editing for closed captions
Closed caption color/size/font customization
Update ability to set personalized defaults for closed caption preferences
Mobile App
The mobile VoiceThread experience is another area where we'll never be done growing, and 2023 will be no exception.
Bulk VoiceThread editing actions
Support for the updated slide gallery view
Support for new media player features of the "New VoiceThread"
Accessibility improvements to match the web experience
Ability to play VoiceThreads in the mobile browser instead of forcing the app to launch
Ability to grade assignments
Student Purchase Option
Some institutions and individual instructors want to use premium VoiceThread features with their students, but there is simply no funding available. A number of these institutions would like the option to require students to purchase their own "seats" in a license instead of funding everyone centrally. This should make VoiceThread more accessible to those institutions.
---
Thank you, as always, for your feedback, partnership, and innovation in bringing all these new features to life. We look forward to a brighter and more hopeful year!